HMS Carmania sinking the Armed German Liner Cap Trafalgar off Trinidad, Sept. 1914. The First Naval Engagement between Armed Liners.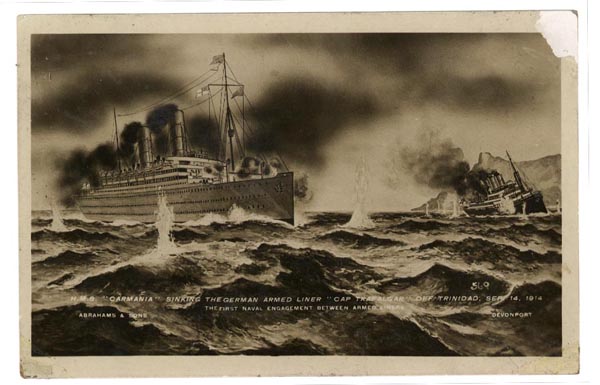 This postcard shows an artist's depiction of a famous World War I naval battle that took place off Trinidad. The battle is partly famous because it did not involve warships but cruise ships that had been converted to armoured merchant cruisers. On the British side was the Carmania, a Cunard cruise ship which had been fitted with 4.7 inch guns. On the German side was the Cap Trafalgar, an armed cruise ship of the Hamburg South American Line.
Shortly after the outbreak of the First World War, in September of 1914, the Carmania under the command of Royal Navy Captain Noel Grant, intercepted the Cap Trafalgar in the waters off Trinidad. A fierce battle took place and although the Carmania's bridge caught fire, she managed to keep firing at the Cap Trafalgar. It was a close fight but after an hour of fighting, the Cap Trafalgar started to list and eventually sunk.
The Carmania received a total of 79 hits, and several crew members were lost in the battle. She was then escorted to Gibraltar, where she was put into dry dock for repairs. For this courageous action she was commemorated by the British Navy League who presented her with a silver plate from Nelson's dinner service.
After repairs the Carmania served mainly as a troop ship, taking part in the Gallipoli Campaign. In November of 1916, surprisingly, the Carmania re-entered passenger service between Liverpool and New York, a year after Lusitania had been sunk by a German submarine. The Carmania continued in service until she was scrapped in the early 1930's.